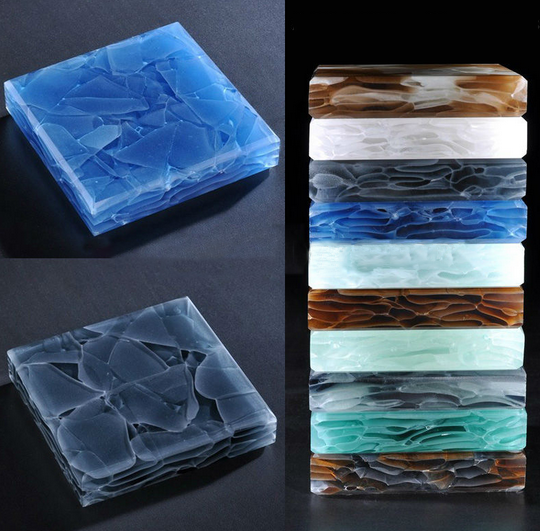 Jade glass
1.High-tech independent research and development product,like jade ,noble and elegance. Jade Glass Initiate in China,lead in the world.
2.Slap-up environmental protection building materials,without any radioactivity pollution,which founded in marble and granite.
3.From the immemorial time, Chinese people leave an unique expression on jade. So it is good for human's physical and psychological health when using jade glass.
4.Rich color, delicate texture, diversified varieties, nonopaque and opaque effects, can meet the different needs, suitable for decoration of all kinds of taste
5.Inorganic materials forging rather than organic chemical resin products, and therefore not aging, gloss permanent, never fade.
6.Not weathering and corrosion resistance performance is good, indoor and outdoor both can be used.
7.Do not absorb moisture, easy to clean, resistance to pollution.After installation,the water will not penetrate into the jade glass stone. But stone is easy to
adsorb dirt permanent surface chromatism.
8.Good mechanical properties, resistance to impact, compressive strength and bending strength are higher than common glass and stone (2.6 2.7 g/cm3 density 透光 common glass 2.5 g/cm3)
9.Safety use. Sharp debris particles is not sharp, do not hurt human body.
10.Resistant to acid and alkali corrosion resistance is superior to the natural and artificial stone.
11.Great Strength. Even broken off, it is safety. Single chip can be used in curtain wall, translucent wall, etc.
12.Processing performance is good,easy to cutting, edge grinding, drilling, laminated
processing,also be processed at the scene of the construction. Deep process is OK: Sand sculpture, machine engraved, pickling and other artistic processing
13.Can be hot bending, Application in cylinder packages, curved screen, the building corner treatment etc, also can be bent whole do furniture, tea table, etc., increase the artistic effect.
14. Easy installation. Such as hang dry, wet, adhesive, claw a connection, etc.